Cooking with Non-Gluten Grains
If you have been told that you have to give up gluten grains, you may be feeling a bit lost. This guide to cooking with non-gluten grains can get you started.
Many people who have Celiac disease or gluten intolerance (also called sprue, gluten enteropathy or gluten-sensitive enteropathy) are now stuck with the problem of finding something to eat. This guide will introduce you to the non-gluten grains and link you to some fabulous recipes you can find all over the web.
If you want some help kicking the gluten grains consider trying my 30 Sugar Free Days Program that helps people stop eating sugar and the foods that act like sugar (mostly grains).
Amaranth

Amaranth is a tall plant that produces millions of tiny seeds. Amaranth seeds are high in protein and they have a distinct nutty flavor. Amaranth mixes well with other grains, try adding a little bit to the next rice dish you make and watch how it enhances the flavor of the meal.
Buckwheat

Buckwheat has a strong flavor that could be described as nutty or dark. It has a strong flavor that many Western tongues find strange, but give it a try and you will find that its flavor grows on you. Buckwheat is high in manganese, magnesium, zinc and fiber. Buckwheat is a staple of Japanese foods and you can by noodles made out of buckwheat (which many people looking for gluten free foods are looking for).
Corn

Corn is one of those grains that people are familiar with, so when they first switch to a gluten free diet they eat a lot of corn. But corn is a common source of food allergies too, so watch out. That being said, corn is a wonderful and versatile grain that fill the gap when you can't eat gluten grains. Corn can be eaten right off the cob, but there are also corn noodles and many corn backing mixes. Most people know what to do with corn, so I don't have a lot of recipes, but here is one I like:
Millet

Millet is one of the tiniest of grains, but it packs a powerful nutritional punch. It has a bit of a nutty taste to it, but not as strong as buckwheat. Anytime you think about using rice, think about substituting with millet. I like to mix millet with other grains (think about a rice/millet pilaf).
Quinoa

Quinoa has a distinct flavor but one that most people find enjoyable. Like millet flour, you need to use some binder (see below) to help it stay together when you are baking with it. Quinoa is one of the healthiest of the non-grain grains and you should experiment and use it often.
Rice

Rice is a staple food all over the world. It is a wonderful addition to any meal. There are rice noodles, but they take a bit of getting used to (sauce doesn't stick as well to rice as it does to wheat). Once again, most people know what to do with rice, but here are a few recipes.
Teff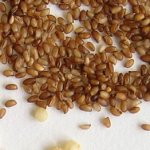 Teff is the tiniest grain that is used for food. The word Teff means "lost" – supposedly because it is so easy to lose these tiny grains. The taste of Teff can best be described as malty, try mixing a small amount of teff in with your next rice or other grain meal.
All is Not Lost
You can enjoy your life even if many of the grains you are used to are now gone. Most people who start a non-gluten diet feel much better than they have in years.
If you like baking, take a look at this guide: The Gluten Free Flour Guide.
Do you have some great recipes of your own? Leave them in the comment section below (or provide us with a link to the recipe).