I get this question all the time, "how much protein should I be eating?"
While most of us think it is hard to get enough protein, the opposite is actually true. In our modern day world, it is easy to get enough protein. This protein myth is a hard one to get over and one that is deeply embedded in our culture.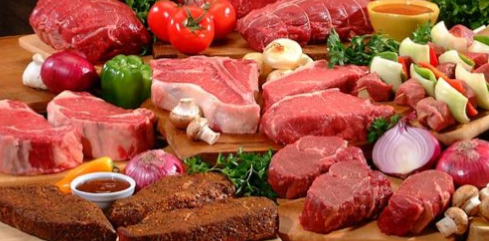 If you look at recommendations from various health organizations, here is what you get:
While I'm not in the habit of agreeing with national and international health organizations, this time I'm on their side. We need far less protein than we think we need.
Both of those recommendations are in stark contrast to what Americans actually eat; we eat around 90 to 200 grams of protein every day. What is crazy is that even though most people eat double the amount of protein that is recommended, they still run out to the health food store and look for protein powders to increase their protein intake.
Protein Overload?
While I don't think you can overload yourself with too much protein, it can create some problems for someone trying to lose or keep weight off. The problem with eating too much protein is twofold.
The first problem is just like the sugar problem: you only need so much protein. After you have enough to stratify the needs of your body, then your body has to somehow deal with the excess. In the case of protein, this means that your body has to get rid of excess nitrogen. While opponents of protein-based diets say that this will destroy your kidneys, this is untrue. The research they point to was performed on people with kidney failure (these people do have to avoid protein), but is not applicable to the average person. Nevertheless, it is good to give your body just what it needs and not to create a situation where it needs to work harder to get rid of the extra protein.
The second problem is that excess protein tends to be converted into glucose (and, remember, you are trying to keep your blood sugar low to keep up your fat burning).
How much protein do you really need? A good rule is somewhere between .6 and 1 gram per lean body mass. To calculate this, you have to know how much lean body mass you have:
Your lean body mass is your weight, minus your fat. Many new electronic scales will give you a rough estimate, or you can ask your medical doctor or sports trainer. If you weigh 150 pounds and your fat percentage is 10 percent than you lean body mass is around 135 pounds (and you should be eating somewhere between 67 and 135 grams of protein every day).
If you are an athlete, your protein needs do increase a bit. If you are not exercising very hard, then use the .6 number and if you are exercising hard then use the 1 gram number.
Protein Chart: To give you an idea of how much protein is in the food you eat, here are some common foods (all are 3.5 ounce servings):
| | |
| --- | --- |
| Ground Beef | 24.1 |
| Chicken | 27.4 |
| Lamb | 30 |
| Pork | 28.6 |
| Venison | 33.5 |
| Turkey | 29.3 |
| Fish | 22.6 |